TONY MAG X HICKMAN 'KID'N'CROSS', OPTIONAL WIDTH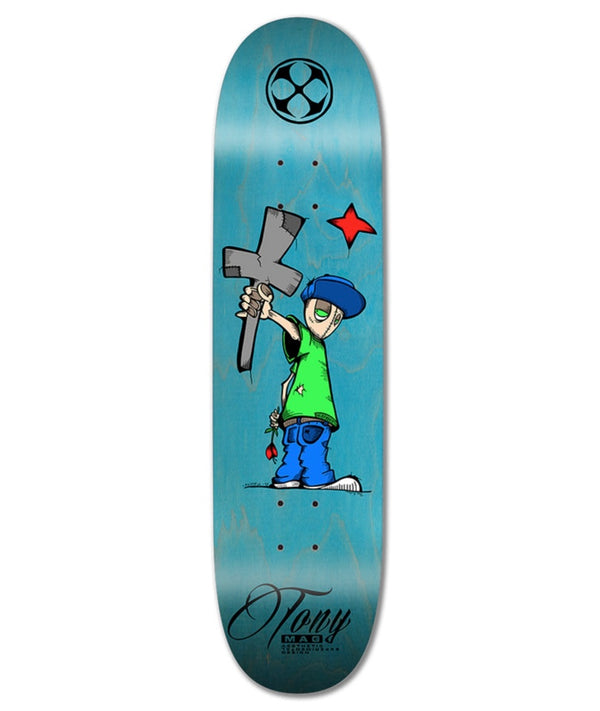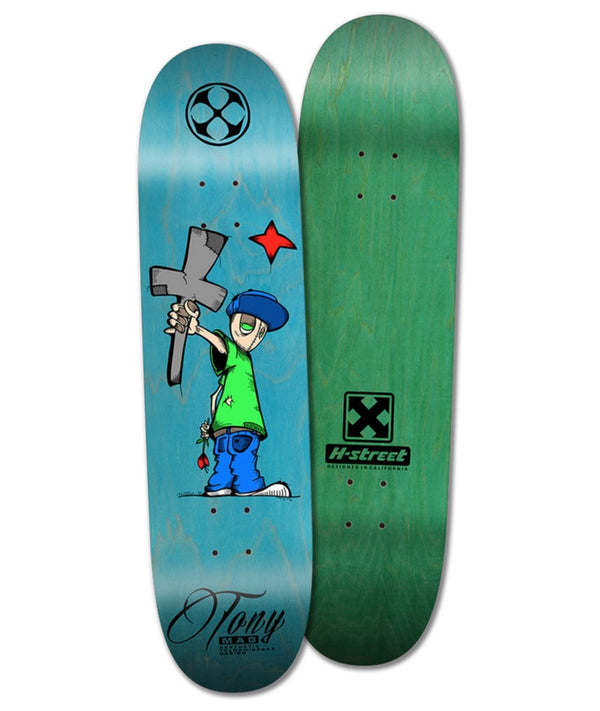 Pro-model of pro skateboarder, Tony Magnusson ("T-Mag"), founder of the H-STREET brand.

The graphics are a Bob Hackmann reinterpretation of the original 80s edition.
MODEL: Tony Magnusson X Hickmann "Kid'n'Cross"
DIMENSIONS:

Optional widths: 8" (20.32 cm), 8.25" (20.95 cm), or 8.5" (21.59 cm)
ABOUT H-STREET:
H-Street was founded in 1986 by pro skateboarders Tony Magnusson ("T-Mag"), Dave Andrecht and Mike Ternasky. It was then the first skateboard company owned and managed by skateboarders.
Ad Tony Magnusson pro-model, H-Street
The original idea was that they considered that skate companies should not be the exclusive property of businessmen. For them, skateboarding was a source of freedom and individual and limitless expression. Finding themselves at the very center of this street culture and making it evolve on a daily basis, they decided that they were finally in the best position to develop a brand. The idea of ​​the name came to them by noting that most cities in the USA have a street called "H Street". They wanted to be unifying, inclusive and this name seemed ideal to them to represent these values.
Team H-Street, 1990
Inspired by the videos produced by Powell & Peralta but cut to the budget of a skateboarder, they decided that all they needed to do was invest in a cheap VHS camera and do the editing themselves with a simple VCR. They were convinced that it was more important to have original and innovative skaters rather than a big budget. They then put together a team of riders with big names such as Danny Way, Matt Hensley, Mike Carrol, Sal Barbier and Eric Koston.
Matt Hensley
The video "Shackle Me Not" followed by "Hokus Pokus" literally shook up the skate world and changed the way of producing videos, inspiring many other brands along the way.
Hokus Pokus video by H-Street
H-Street has of course also developed a series of original and innovative skateboards and accessories. Boards with revolutionary concaves, solid and high-performance bearings and wheels...
Danny Way
The tragic death of Mike Ternasky put an end to the brand in the early 90s. "T-Mag" then turned to other creative pursuits in the skate industry. H-Street was a thing of the past, but skaters of all ages continued to watch and be inspired by the brand's legendary videos. Some T-Shirts that had become collectors were starting to fetch around 500 USD on the internet... For years, fans from all over the world came for news and it was in 2008 that "T-Mag" decided to resuscitate the brand. The H-Street legend is back in force with the reissue of historical collections and a series of new items.
Close (esc)
SUMMER CLOSURE FROM 29.07 TO 9.08.2023
ANY ORDERS PLACED DURING THIS PERIOD WILL BE PROCESSED FROM 09.08.2023
Age verification
By clicking enter you are verifying that you are old enough to consume alcohol.