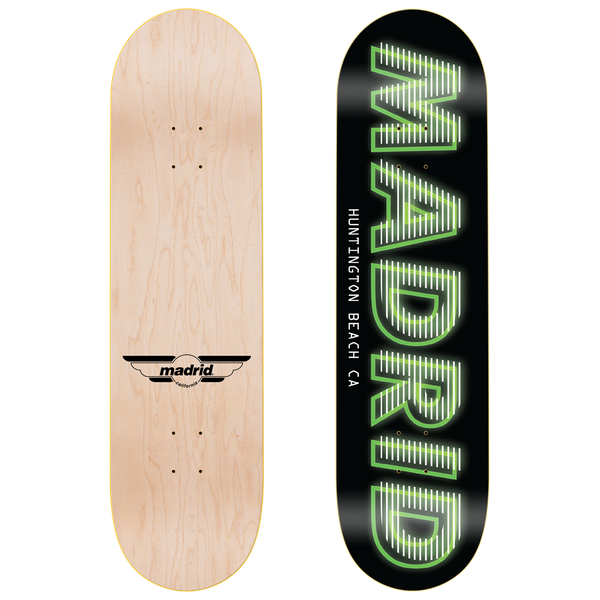 BRAND: MADRID SKATEBOARDS
DIMENSIONS: Length: 32.5" (82.6 cm) - Width: 8.5" (21.6 cm) - Wheelbase: 14.5"
THE HISTORY OF MADRID SKATEBOARDS:
Jerry Madrid started out by shaping surfboards in his parents' garage in California in the late 60s. When the waves weren't there, Jerry would start building boards for his friends and for himself. -even. In 1976, when he was a firefighter, Jerry officially started his skate business by enlisting his brothers Jim and Jeff to help him with his plans.
By launching boards with revolutionary concaves, the brand quickly built a solid identity alongside Powell & Peralta, Vision, Alva, Sims and other iconic brands of the skate scene of the time.
In the 80s, Madrid was also a pioneer in terms of collaborations. Let's first name the "Madrid x Valterra" which propelled the notoriety of the brand with the appearance of the board handled by a certain Marty McFly in the film Back to the Future.
Let's also mention the "Vans x Madrid Fly", the very first co-branded shoe in Vans history.





More recently, the brand appeared in the series Stranger Things on Netflix.
Madrid continues to chart its course by releasing a tribute collection to the cult film "Labyrinth" which marked generations and in which we find none other the mythical David Bowie in the main role.
And if that weren't enough, Madrid surprises us today with a collection edited in homage to the TV-US series, as cult as it is crazy, "Fraggle Rock" from the 80's. Crazy, furry characters who love nothing but fun and music. If you don't know, here's

an overview

.
With its 45 years on the clock, Madrid still produces its skates in its factory located in Huntington Beach, California. And we bet strongly that the coming decades are going to be crazy at Madrid.
Close (esc)
SUMMER CLOSURE FROM 29.07 TO 9.08.2023
ANY ORDERS PLACED DURING THIS PERIOD WILL BE PROCESSED FROM 09.08.2023
Age verification
By clicking enter you are verifying that you are old enough to consume alcohol.