DISRUPTOR - RAW SILVER (SET OF TWO)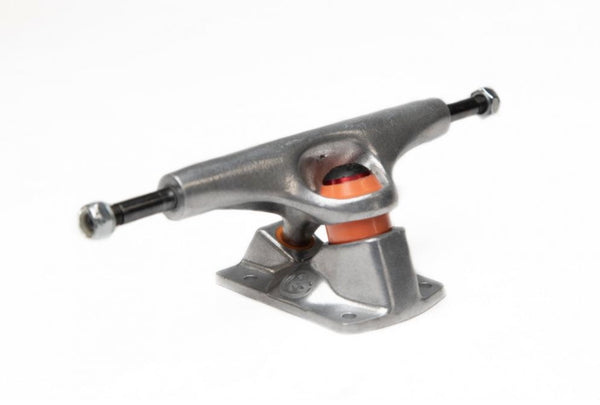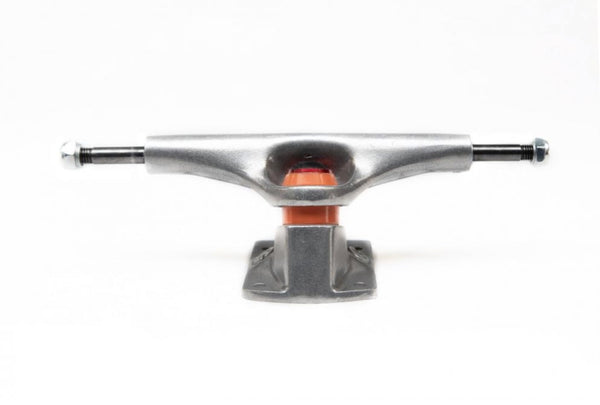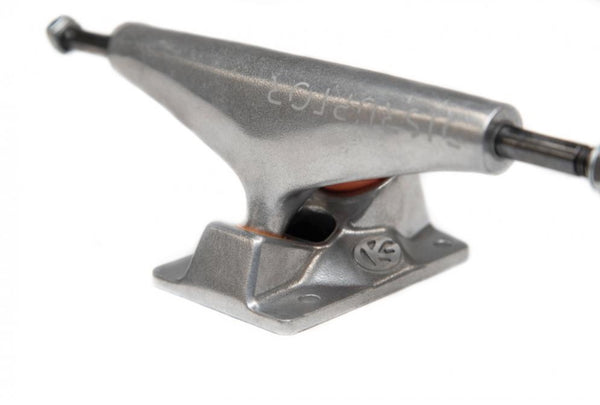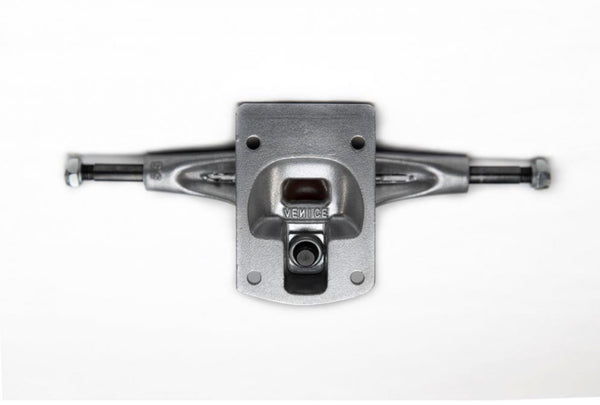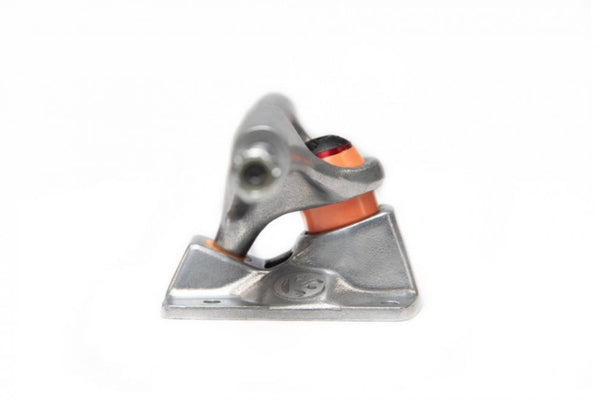 The "Disruptor" trucks mark GrindKing's grand return to the skateboarding arena.
The Californian brand that has always been known and recognized for its innovations offers here a model that will give a new dimension to your grinds.




Thanks to its reversed ankle & bolt system, snagging becomes impossible and the curved shape of the base seriously reduces the risk of the board breaking.
The "Disruptor" are resistant, efficient, light and adapt to a multitude of boards.
FEATURES :
Suitable for street-skate, park-skate, ramps, cruising,...
Truck color: raw metal. Eraser color: orange
Weight: approx. 500g per truck

Sizes: 5.0, 5.5 or 6.0,

depending on the option chosen and subject to availability
| | | |
| --- | --- | --- |
| Model : | Hook size: | Suitable board width: |
| 5.0 | 127mm | 7.5" to 8" |
| 5.5 | 139mm | 8" to 8.25" |
| 6.0 | 149mm | 8.25" to 8.75" |
ABOUT GRIND KING:
The brand was founded by Donald Cassel in 1988 in Venice, the cradle of skate culture which notably saw the birth of Dogtown.

In their early days, Grind King revolutionized the market with a reverse peg and bolt system that fitted most trucks on the market. This innovation eliminated skaters' snagging problems during their grind sessions.

There followed many other products designed by Donald Cassel such as the "Grind King Skate Tool", the "Bridgebolts" or the "Nut Lock" fastening system.

In the 90s, the brand launched the Grind King Trucks. The lightest trucks on the market and with a resolutely innovative design. Many skaters, anxious to lighten the weight of their boards, immediately adopted them.

In the aftermath, Grind King launched an even more upscale version of this model. And a few years later, Donald presented to the market a special truck, named "Thunderbird".

In the early 2000s the brand lost momentum and we heard no more about it.

2021 marks Grind King's big comeback with the "Disruptor". A solid, light truck full of innovations.
Close (esc)
SUMMER CLOSURE FROM 29.07 TO 9.08.2023
ANY ORDERS PLACED DURING THIS PERIOD WILL BE PROCESSED FROM 09.08.2023
Age verification
By clicking enter you are verifying that you are old enough to consume alcohol.