MEN'S SHOES "VALLELY" GREY/BLACK LOGO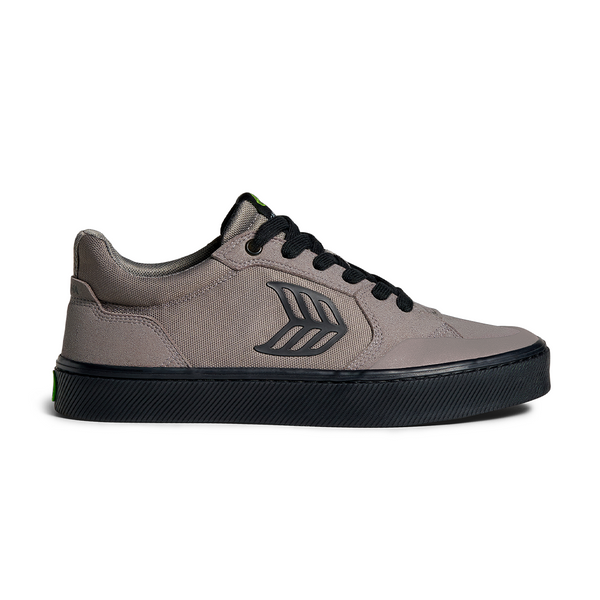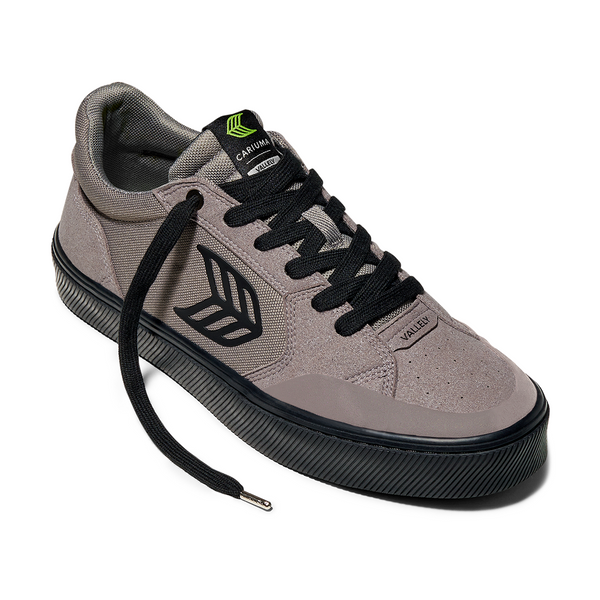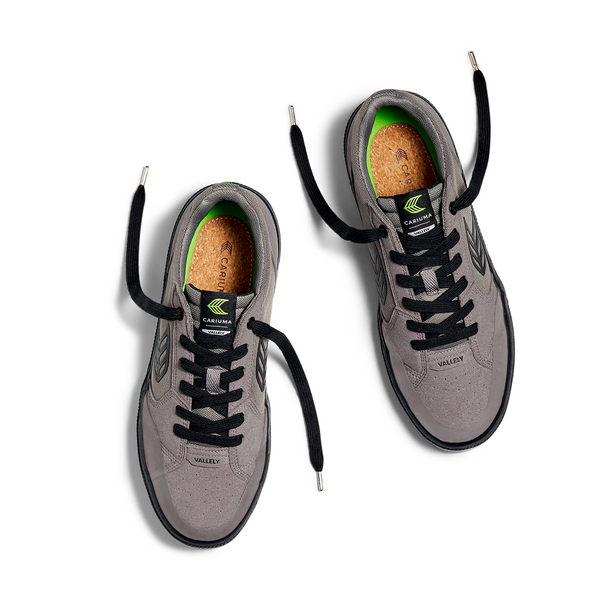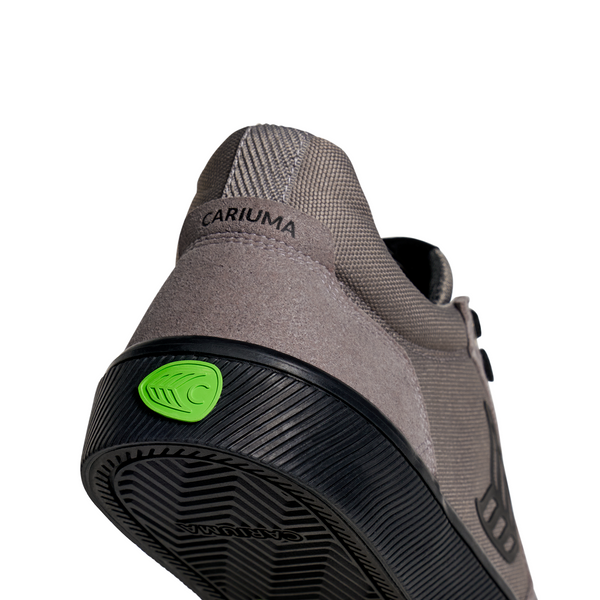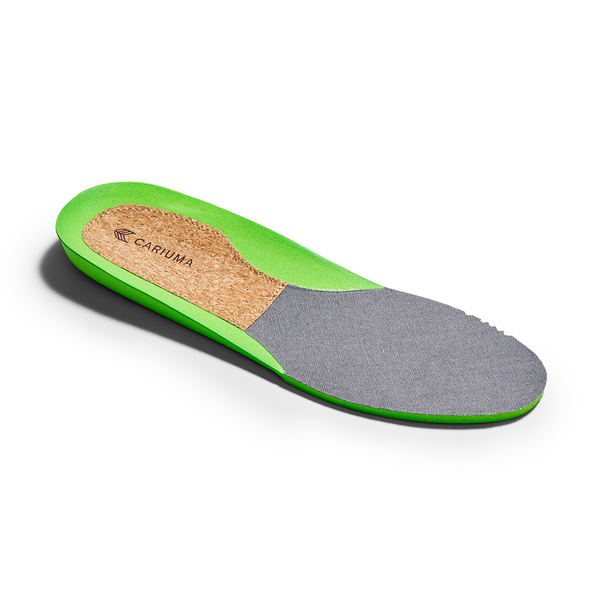 The resolutely eco-responsible skate-sneaker
The "VALLELY" model, developed with and in tribute to one of the icons of skateboarding, Mike Vallely, combines durability, style, movement and the best possible grip.

This 100% vegan shoe offers a perfect connection to skateboarding thanks to its grip. The feeling of comfort of the foot is optimal.

Its shape and contrasting materials pay homage to the sneakers that Vallely used to wear from the 80s.
FEATURES :
Vegan suede & sturdy recycled fabrics
100% non-slip, natural rubber
Castor oil, part in organic cork with the CARIUMA logo
Coated metal aglets and eyelets, laces made from recycled plastics
Hand vulcanized shoe
; stitched midsole
SIZE GUIDE :
CARIUMA fits big . We advise you to choose a half size below your usual size .
ABOUT MIKE VALLELY:
Mike Vallely's career began in 1986. At the age of 16 he appeared on the cover of Thrasher magazine with one of his legendary figures, the "Sad Ho-Ho Plant". With his hardcore skate style he was quickly spotted by pro skater Lance Mountain who recommended Powell & Peralta to sign him. He then became one of the brand's youngest pro skaters. In an issue of Transworld Skateboarding Magazine, he appears in a photo alongside legendary skaters Natas Kaupas and Mark Gonzales pointing at him, symbolizing that this teenager was revolutionizing street skateboarding and that he was now "the man to be continued".

Throughout his career, Mike Vallely has counted Powell & Peralta, World Industries, Venture Trucks, Tracker Trucks, and many others among his sponsors. He then founded his own brand "Street Plant" and also had a career in ice hockey, music ( Black Flag , Mike V and the Rats, Revolution Mother, ...) and cinema ( Very Bad Trip 1 & 3 , ...). Today he is also responsible for the team of pro skaters of the Cariuma brand.
(Cover of Thrasher magazine August 1986)
(Mike Vallely, Mark Gonzales, Natas Kaupas/Photo: J. Grant Britain)
ABOUT CARIUMA:

Cariuma, manual and ethical know-how
The brand was created by two friends, lovers of skateboarding, surfing and snowboarding. After leaving their respective jobs, they set themselves the goal of offering shoes while respecting the environment, the well-being of employees and designing comfortable products in a timeless style, based on eco-responsible materials.
Cariuma conquered the US skate scene in record time. It has notably become the main partner of the media The Berrics and of the SLS (Street League Skateboarding) championships. An armada of professional skateboarders have joined the stable. The latest being the iconic Mike Vallely for which Cariuma has edited a model in his name.
Timeless design
Longevity and controlled consumption are the watchwords of the brand. The models have a vintage spirit, old-school aesthetics and meet current ethical standards. Shoes that can be worn in all seasons.
The quality of the materials used and their ecological origin guarantee products with an extended lifespan, the only way to consume less and better. Waste reduction All unused materials for the manufacture of a pair of shoes are recycled to be used in the production of the next pair.
The well-being of Cariuma employees and subcontractor workers places people at the center of its attention. The mental, emotional and physical well-being of its employees is a top priority for the brand and it provides them with workspaces that guarantee safety and comfort. The wages of workers working in Cariuma's subcontracting companies are on average 79% above those defined by the International Labor Organization. Cariuma also imposes a rigorous code of good conduct on its subcontractors. Audits are regularly carried out in the brand's partner factories. A commitment that has enabled Cariuma to be awarded the most serious certification in terms of the code of good conduct that exists ("WRAP GOLD CERTIFICATION"). The ecological requirement Cariuma tends to use natural and responsibly sourced materials. The dyes used for the different models are Bluesign certified.
The Cariuma warehouse meets the highest environmental standards on the market. It is fully supplied with solar energy and has a thermal cooling tower to prevent and avoid over-consumption. The building is ISO14001:2015 certified and "LEED Gold Certified". Carbon-neutral transport For their deliveries, Cariuma has joined the "DHL Go Green" program, with which carbon emissions due to the transport of goods are neutralized through 9 reforestation initiatives around the world. Restore the biodiversity and carbon capture potential of tropical forests:
Since June 2020, the company has committed to planting two trees for each pair of shoes sold. Depending on the period, Cariuma increases this number which can reach up to 10 trees per pair sold. The biological diversity of the trees planted is vast, with more than 120 different species. The Brazilian rainforest is home to more than 60% of animal species threatened with extinction and has lost nearly 87% of its density due to devastating deforestation.
Close (esc)
SUMMER CLOSURE FROM 29.07 TO 9.08.2023
ANY ORDERS PLACED DURING THIS PERIOD WILL BE PROCESSED FROM 09.08.2023
Age verification
By clicking enter you are verifying that you are old enough to consume alcohol.