SURFSKATE - CI BLACK BEAUTY - 31.75"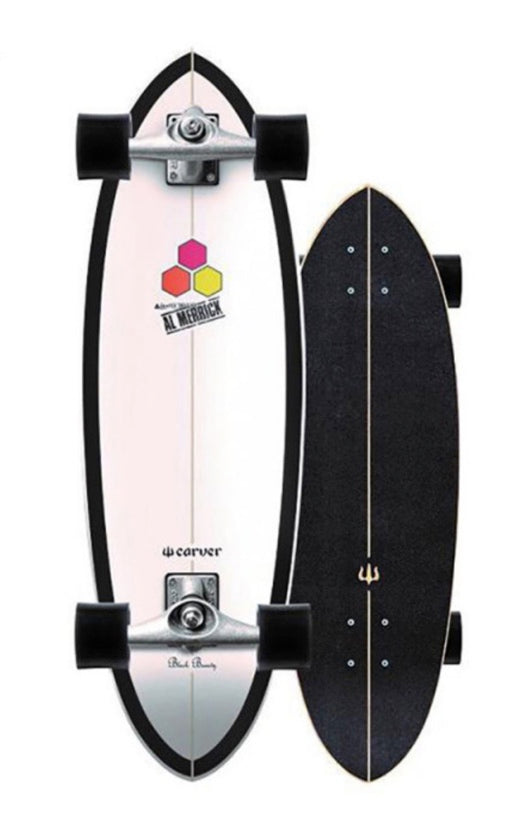 The CI BLACK BEAUTY 31.75" model is part of the range developed in collaboration with the shaper Al Merrick (Channel Islands) to find the maximum gliding sensations in surfing. Optimized for speed, power, fluidity and control , this board will be a perfect alternative for days without waves.Its long wheelbase and its pintail at the back allow you to draw perfect curves.

The iconic Channel Island logo from the 80s has been recreated for a retro-inspired design.

Channel Islands is arguably one of the most influential surfboard brands in the world, and over the past 45 years its founder and Shaper Al Merrick has designed some of the most iconic models in surfing history. Today his son Britt continues this legacy.

Since 2015, Carver has been making surfskates associated with Channel Island classics like the CI FISHBEARD. Each new shape is based on their latest progressive shapes, destined to become future classics once again.
FEATURES :
31.75" (80.6cm)
9.75" (24.8cm)
17.75" (45.1cm)
3.5" (8.9cm)
6.5" (16.5cm)
CX
69mm Concave Smoke 78A
Integrated
ABOUT CARVER:
The boards of the Made in USA brand are neither skateboards nor longboards but Surfskates. Made for riding or cruising the streets of the city, they are also suitable for bowls and ramps.

It was in 1996 that the Carver adventure began and continues to grow. During a calm summer in Venice Beach, one of California's legendary surf spots, Greg Falk and Neil Carver had been surfing all winter and were looking forward to surfing waves in warm summer water on the long summer days but the waves weren't there.

The Lords of Dogtown have a similar history leading them to invent the Skateboard, Greg and Neil took the opportunity to invent the first surf skate trucks allowing curves full of sensations.

By loosening the trucks of classic skateboard decks, we only obtained instability: We had to invent new wheel supports and seek maximum carving sensations.

Venice and Santa Monica are the perfect cities to skate with wide avenues, steps and other skate spots, but none of it provided the feeling we were looking for.

Worldwide, Carver is known to all surfers of the world ! This is why the brand has surrounded itself with professional surfers and renowned shape workshops to offer you ever more efficient products.

Taylor Knox, surfing legend, fell in love with boards very early on and developed his own Knox Kill model in collaboration with Carver.

Courtney Conlogue has also had her pro-model Conlogue Sea Tiger for a few years just like Yago Dora or Tyler Ridler.

In 2019, we also find superb co-branding models developed with major brands in the surf scene such as Channel Islands. and Lost Surfboards.
Close (esc)
SUMMER CLOSURE FROM 29.07 TO 9.08.2023
ANY ORDERS PLACED DURING THIS PERIOD WILL BE PROCESSED FROM 09.08.2023
Age verification
By clicking enter you are verifying that you are old enough to consume alcohol.