NAIL 32" LIAM ASHURST SERIES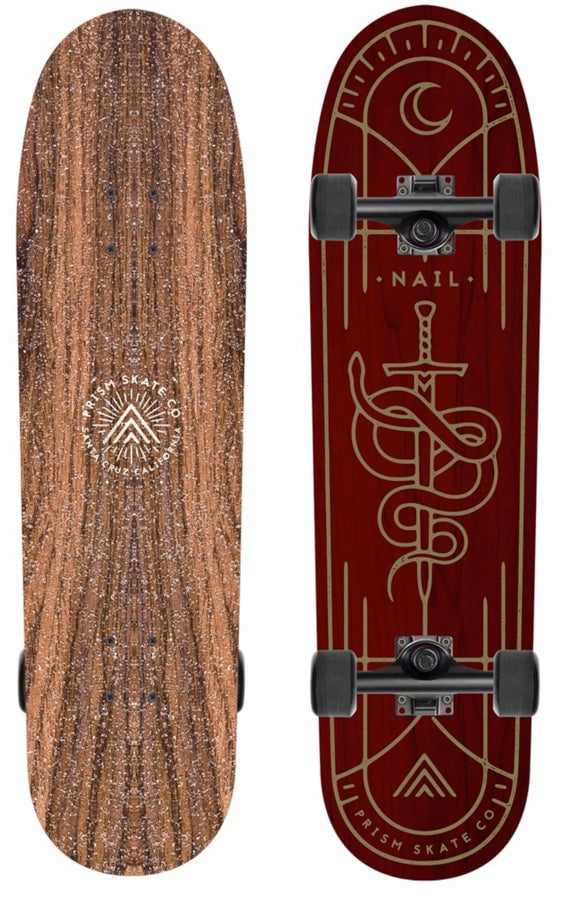 This complete cruiser is suitable for riding, cruising and for ramps, bowls and other modules.

With its fairly pronounced concave and relatively small wheels, this board is very responsive and can be maneuvered with great precision.

The design was made by artist Liam Ashurst. Its old school style as well as its transparent grip make it an even more pleasant board to ride.

Prism wheels, Caliber trucks and Blood Orange bearings give this cruiser an optimal setup.
FEATURES :
32" (81.3cm)
8.5" (21.6cm)
14.5" (36.8cm)
Maple, 7 ply
Caliber Standard 8.5" Trucks
Prism Wheels, 60mm/78A
Blood Orange, ABEC 7
Extra clear griptape
ABOUT PRISM:
Prism Skate Company was founded in 2015 by professional skateboarders Liam Morgan and James Kelly. They felt that the market lacked a brand owned by skateboarders who live and fully exercise their passion on a daily basis and not by businessmen, accountants or people who practiced skateboarding twenty years ago.

With their know-how and experience, they design boards for both beginners and pros. Prism puts as much emphasis on stylish graphics as it does on the performance and functionality of its skates.

On a day-to-day basis, the company is managed by Tom Flinchbaugh, legendary downhill skate photographer and videographer, and Liam Morgan, a pro skater and current President of Prism.
Close (esc)
SUMMER CLOSURE FROM 29.07 TO 9.08.2023
ANY ORDERS PLACED DURING THIS PERIOD WILL BE PROCESSED FROM 09.08.2023
Age verification
By clicking enter you are verifying that you are old enough to consume alcohol.