GATOR II Mini Cruiser, 27.5"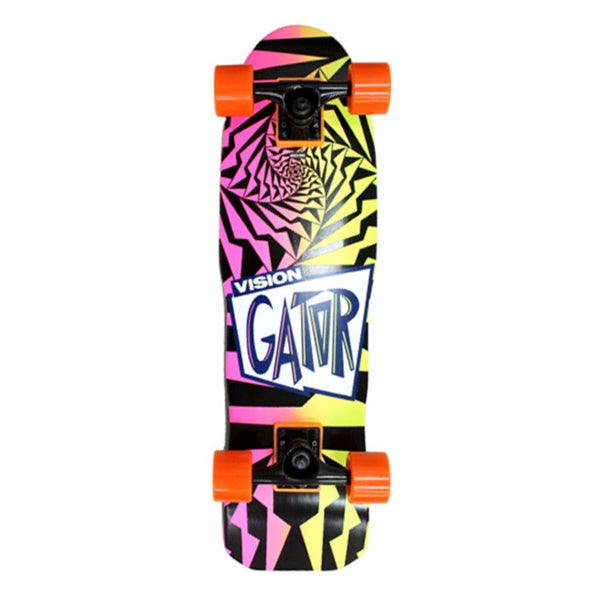 This "Gator II" mini-cruiser edited by Vision takes up the iconic graphics of the skater's original board Mark Anthony "Gator" Rogowski, pro-rider of the Vision team in the 80/90's.

A board with an old-school 80's look, completely assembled with Tri Star trucks, Vision wheels and a very adherent grip.
FEATURES :
27.5" (69.9cm)
8" (20.3cm)
Maple
Tristar

Vision
Supplied (mounted)
ABOUT VISION:

Vision is arguably one of the most iconic brands in skateboarding history. Created in 1976 by Brad Dorfman in California, Vision was a pioneer in the way of developing this discipline.

The brand very quickly created a unique image by creating a team made up of legendary pro-riders with innovative styles such as Mark Gonzales, Mark "Gator" Rogowski, Tom Groholski and many others.
It also excelled with iconic graphics that quickly became cult and with eccentric board designs

such as the famous "Psycho Stick".
In the skate landscape of the 80s & 90s Vision occupied the first place alongside Powell & Peralta but with a more "punk" image, bad boy.


The brand always saw further by developing a range of clothing and shoes under the name of Vision Street Wear and by weaving its web in the world of BMX by sponsoring rising stars of the time and by organizing major events in the domain.
Dorfman understood very quickly that skateboarding was on the way to becoming a global phenomenon and that to reach an ever wider audience, it was necessary to constantly push back its limits.

The brand decided to find ambassadors as cross-over as it was in music with groups such as the Beastie Boys or the Red Hot Chili Peppers who performed in the competitions that Vision organized and for which the brand produced models. shoes and specific skate decks.
(The Red Hot Chili Peppers)
(The Beastie Boys)
After a meteoric rise Vision began to run out of steam. The potential of skate-business gave ideas to the main team-riders who either joined more generous brands in terms of fees, or set up their own brand, as was the case in particular with Mark Gonzales who founded Blind . .a sort of nod to Vision.

The company and its licenses then passed through the hands of several groups but without ever managing to restore its shine.

Brad Dorfman, its historic founder, recently decided to take matters into his own hands by reissuing the brand's historic models. Either identically or with more current forms/shapes.
First-time fans are rejoicing in the return of the old-school brand and the hype around the phenomenon is going...viral.
Close (esc)
SUMMER CLOSURE FROM 29.07 TO 9.08.2023
ANY ORDERS PLACED DURING THIS PERIOD WILL BE PROCESSED FROM 09.08.2023
Age verification
By clicking enter you are verifying that you are old enough to consume alcohol.